Online shopping can be quite intimidating, especially when you're not shopping for your everyday products.
Here at Green Society, we made online cannabis shopping Quick and Easy!
If you do happen to run into any issues or concerns, please do not hesitate to contact us! We are available every step of the way. We aim to provide a cannabis purchase experience like no other.
Find our step-by-step guide below on how to order and pay.
STEP 1.
Register for a Green Society account
a.) Visit https://greensociety.cc/register
b.) Enter your basic information
c.) Opt into our newsletter to get the earliest notices of sales, promotions, coupon discounts, and more!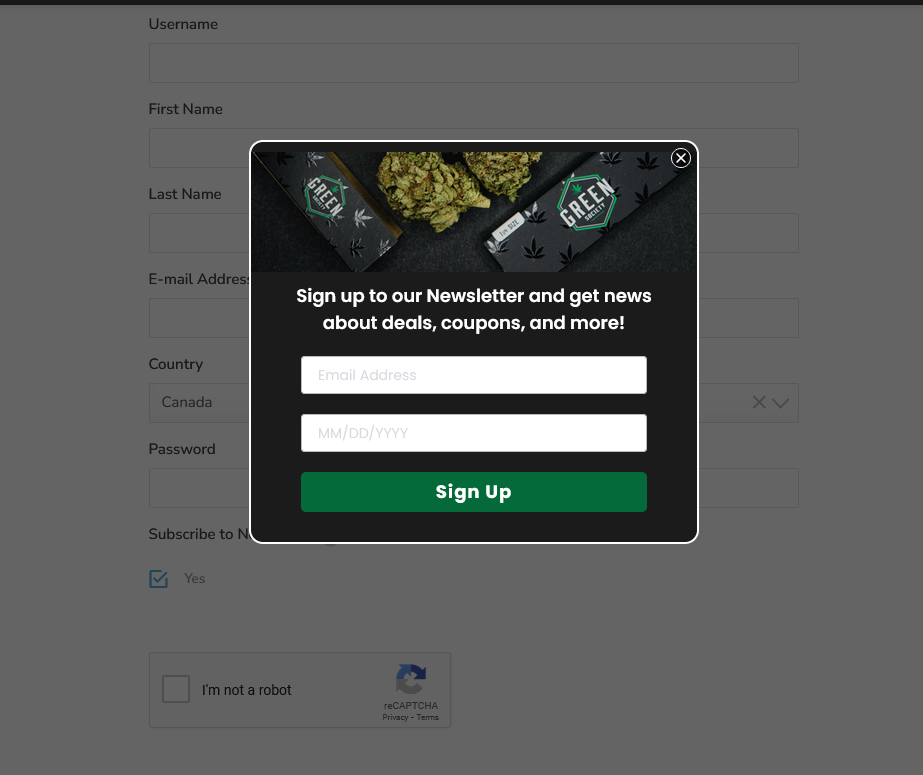 c.) Enter your information in the form then click REGISTER
You can use either your username or email address to log in to your Green Society account after registering. Make sure you pick a password that no one knows and you can remember! Don't worry if you forget your password, you can reset it here.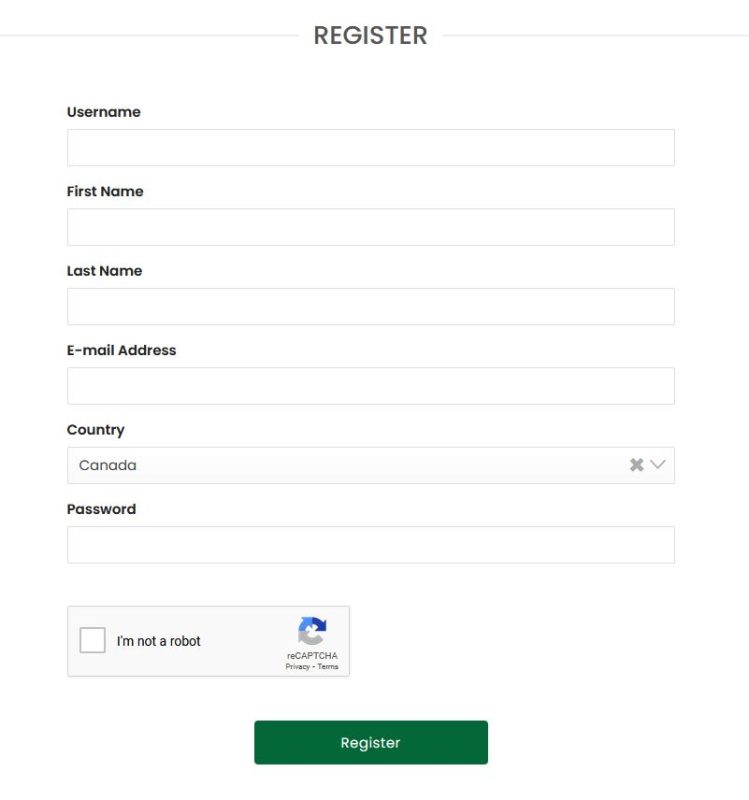 d.) After clicking register, you will be logged in and redirected to our shop page.
From here you can take a look at your dashboard to view your orders, account details, society rewards, cashback rewards, your referral link, and more. We've also loaded up $10 of cash back points for FREE to get you started!
Learn more about: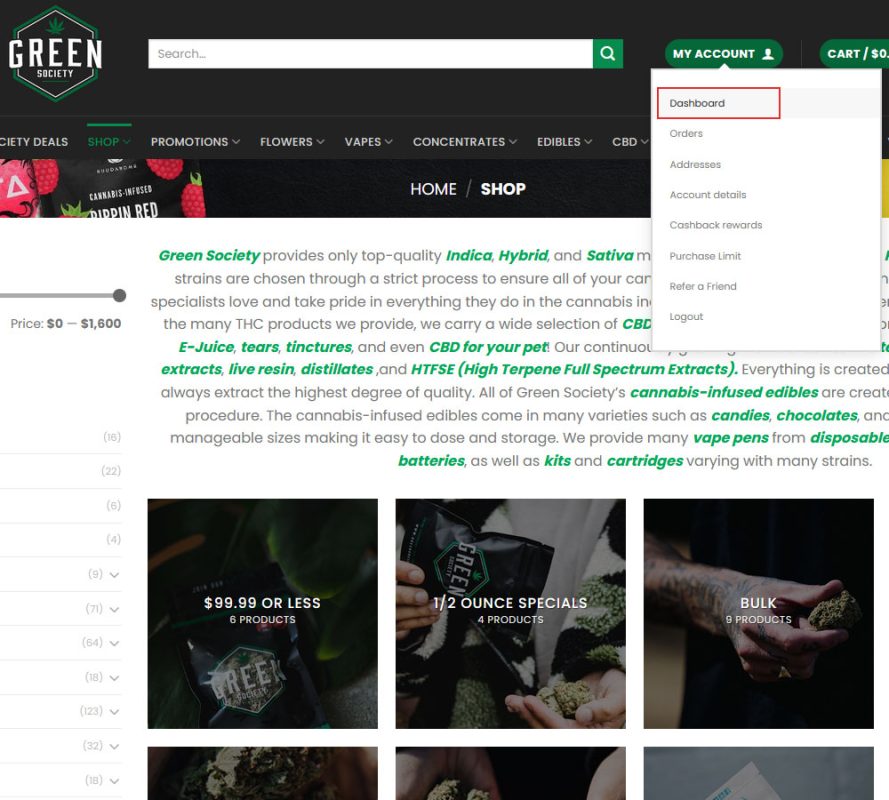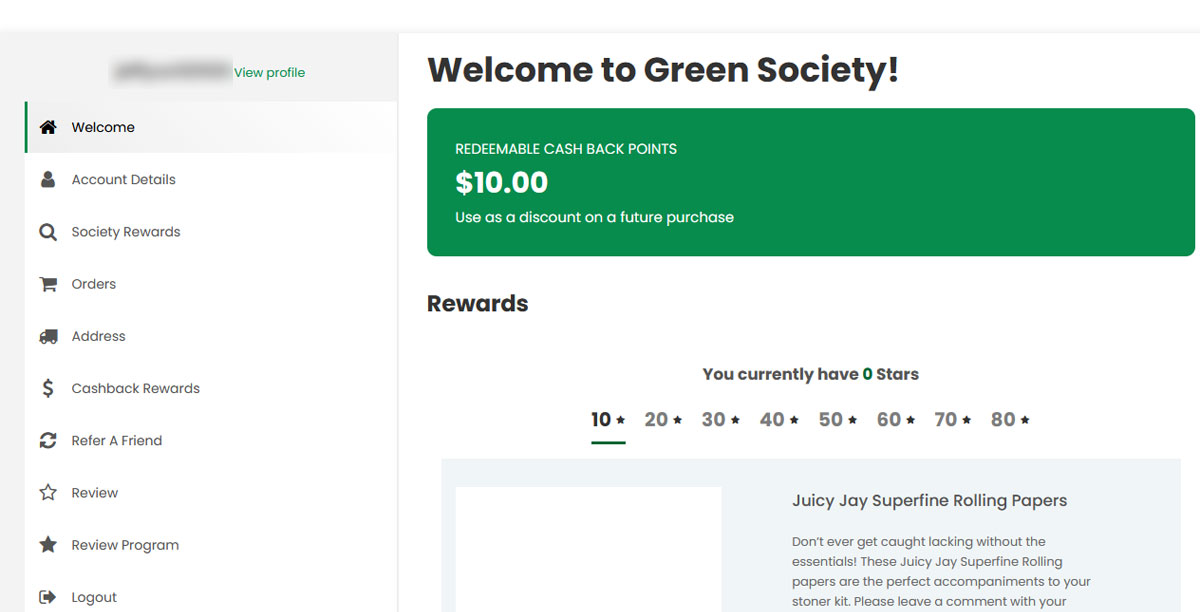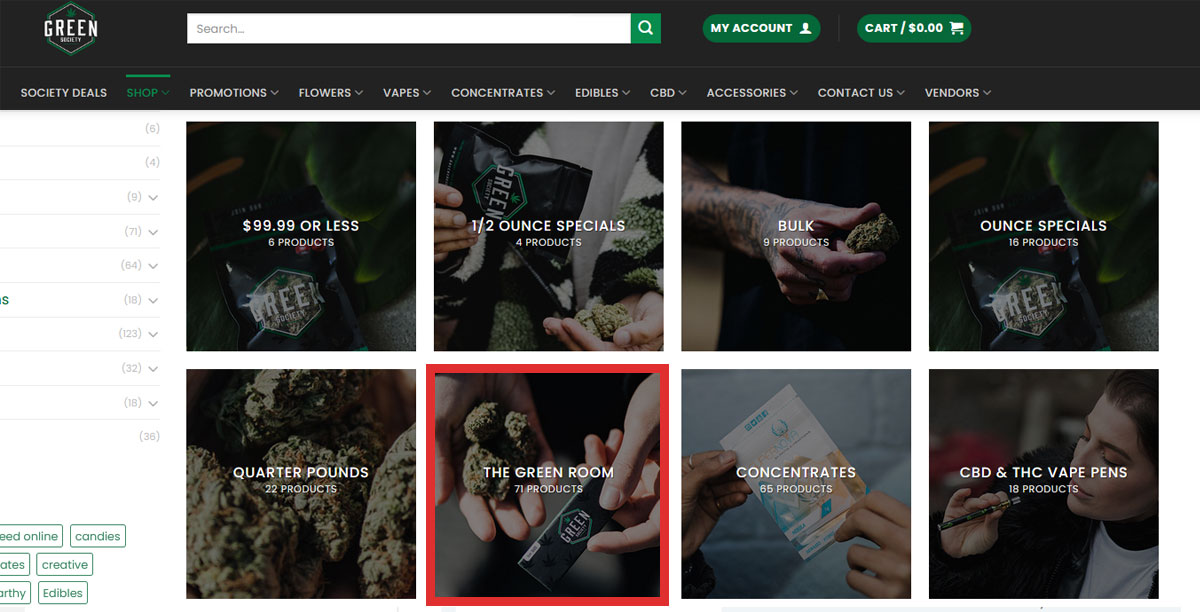 b.) You will now see all the products from the Green Room category on the page. It may be overwhelming at first, but don't worry, if you're having any difficulties finding or picking something you can always ask support or head over to our Discord server for reviews and suggestions from others!

Click on any product to view more information about it.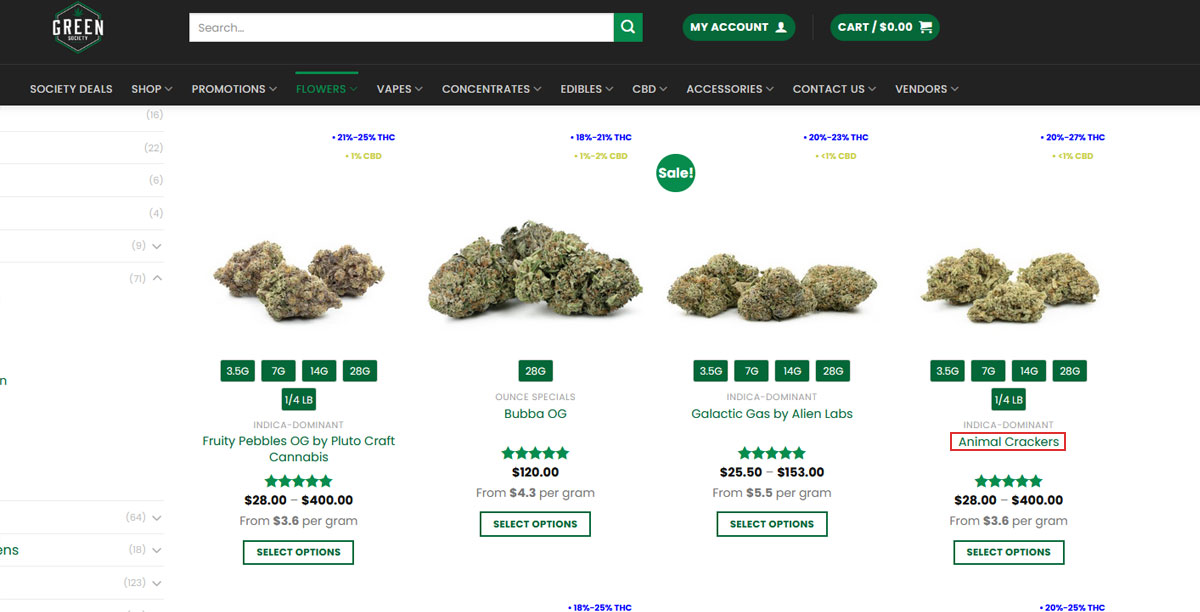 c.) On the product page, there is tons of information about the product that will help guide you in choosing what's right for you.

Choose a variation amount and click ADD TO CART. A cart menu will pop out showing your current cart. Continue adding products into your cart and when you're ready to checkout proceed to the next step.
Can't find the cart menu pop out? You can find it at the top next to the my account button.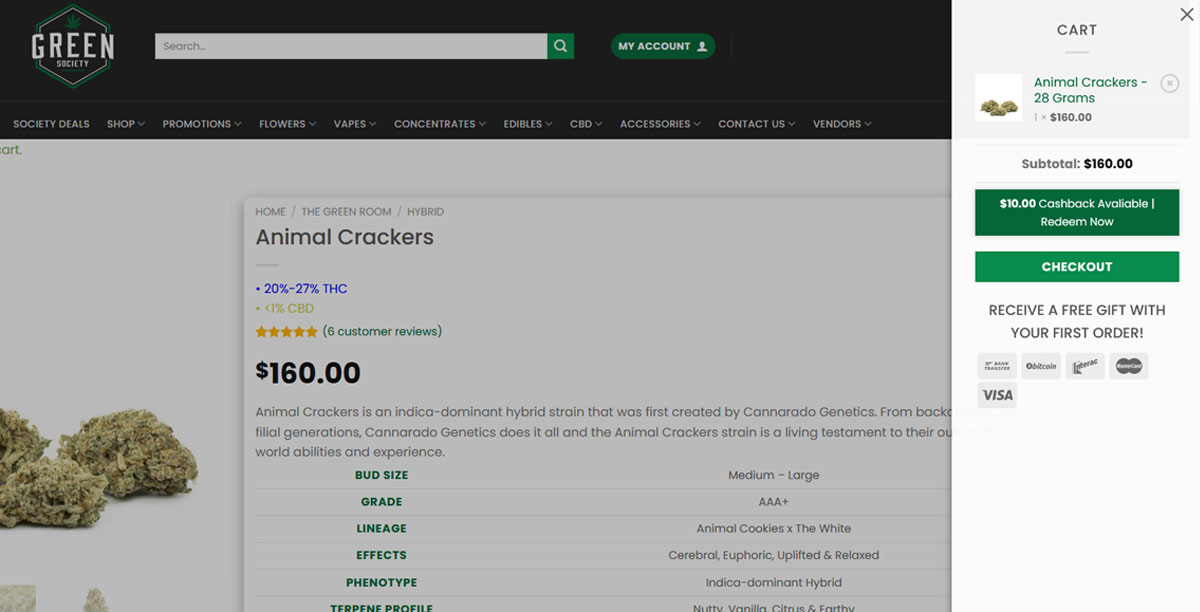 STEP 3.    Proceed to Checkout
a.) When you're satisfied with the products in your cart, click CHECKOUT in the cart menu pop out. You will be redirected to the checkout page.
With our 1 step checkout, placing your order takes less than a minute!

To place an order, you must spend a minimum of $50.00 and shipping fee is $20.00. If you spend over $149, free shipping will be automatically applied to your order!
In the customer information section, ensure all your information is correct as there will be delays if any information is incorrect after placing your order. Also take the time to review your cart items.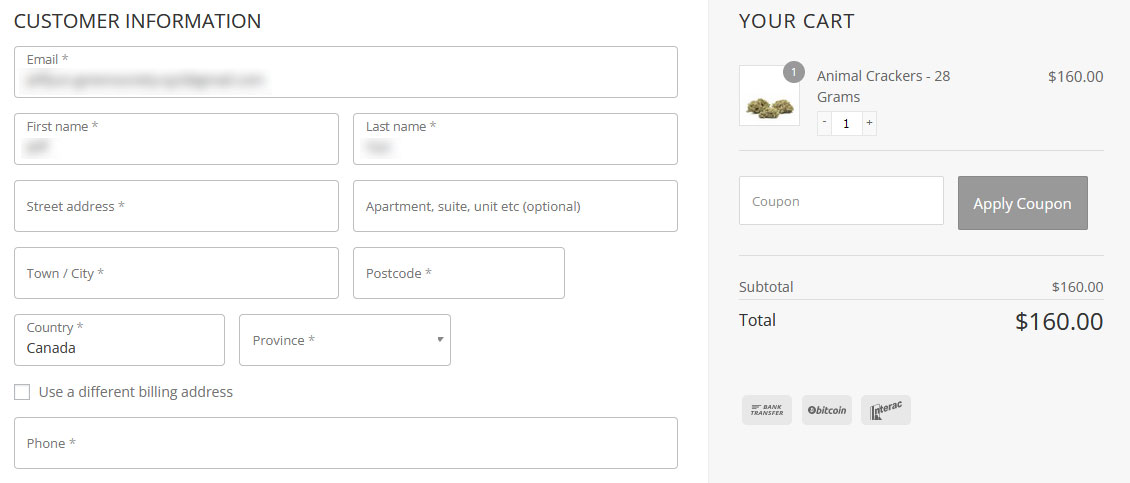 b.) In the notes section, choose an option in the case that an item in your cart is out of stock. You can also add any order notes here that you have.


c.) In the payment information section, you will need to choose which form of payment you'd like to make for your order. The options we have are Interac E-Transfer, Credit Card, or Cryptocurrency.

When paying with cryptocurrency, receive a 10% discount on your order, applied automatically!
When you've decided on your payment method, check the box "I have read and agree to the website terms and conditions" and click PLACE ORDER NOW.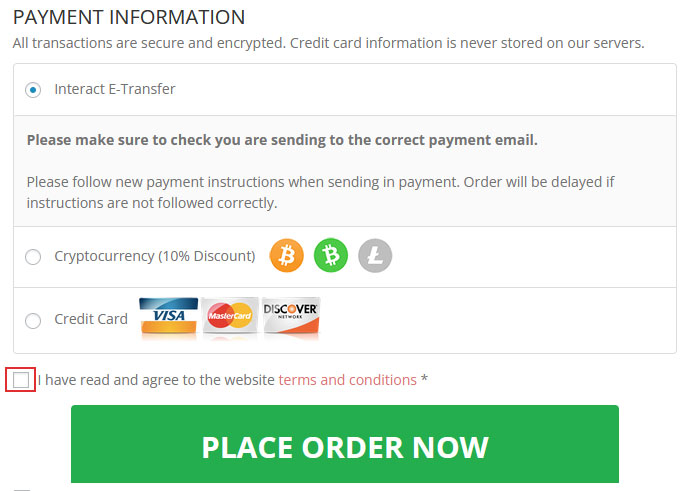 HOW TO PAY
Interac E-Transfer
After placing your order and choosing the Interac E-transfer payment method, you will be redirected to a page that shows your order is confirmed.
This page gives your details and instructions about how to send your e-transfer. You will also be sent an email that contains these details as well.
Read carefully and follow the instructions to send your payment to the email provided. Please ensure you follow the instructions correctly and thoroughly as any errors will cause delays in the shipment of your order.
Please do not include anything referencing GS, Green Society, Weed, Cannabis, or anything related to our company. Failure to follow this will cause your transfer to not be accepted and your account will be TERMINATED.
You will also see your information and order details at the bottom of the page.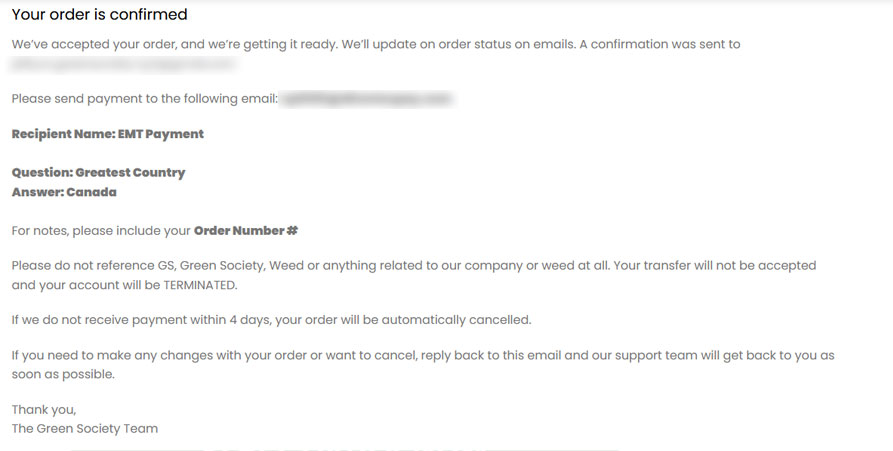 Cryptocurrency
If you placed your order using cryptocurrency, you will be redirected to a page that will allow you to choose a crypto coin of your choice. Currently we accept Bitcoin, Bitcoin Cash, Litecoin, and Dodgecoin.
In the customer information section, a discount of 10% is automatically applied for paying with cryptocurrency!
To send your cryptocurrency, copy the address and send the correct amount given from your crypto wallet. Once you send your payment, it will be verified and your order will be processed.