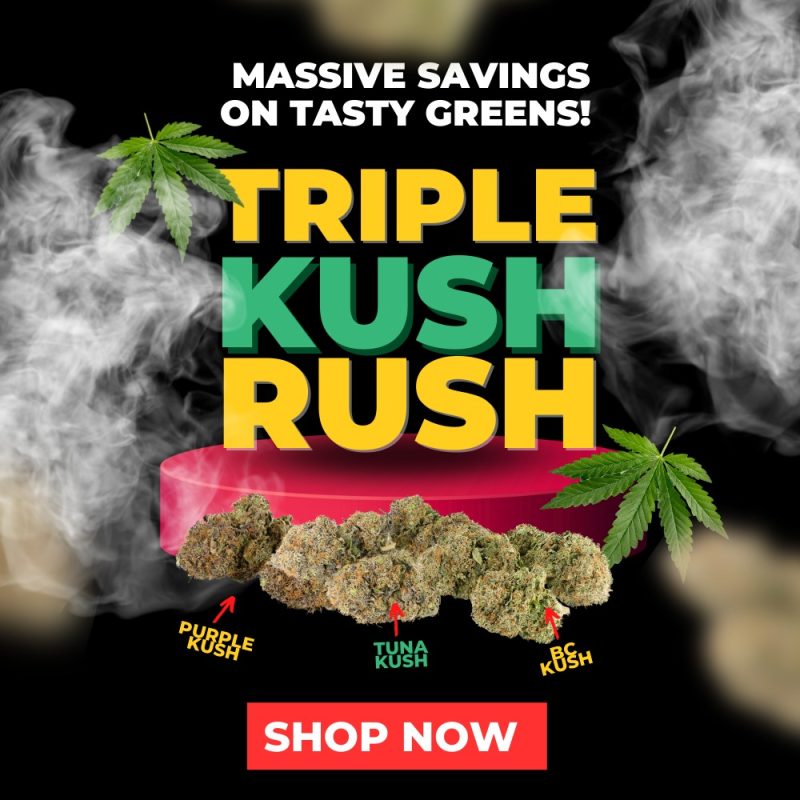 Triple Kush Rush
Are you ready to experience the ultimate kush rush? Look no further than our Triple Kush Rush promotion! For a limited time only, we're offering massive discounts on our premium BC Kush (Bulk), Purple Kush (Bulk), and Tuna Kush (Bulk) products. Whether you're a seasoned kush connoisseur or just starting out, our top-quality strains are sure to satisfy. Don't wait – order now and get ready to experience the rush!"
BC Kush
BC Kush is a highly-regarded indica strain that originated in Canada and has won the Best Indica award at the Cannabis Cup twice. The strain was created by expert breeders at BC Bud Depot by crossing BC Grapefruit and Kush. It has gained a reputation for its high potency, average THC levels of up to 27%, and ability to induce deep relaxation in users. BC Kush has a fruity flavor with notes of kush and earthiness, making it a popular choice for cannabis enthusiasts worldwide.
Purple Kush

Purple Kush is a popular indica strain that is highly potent and sought after by both medical and recreational users due to its relaxing effects and euphoric head high. It is a cross between the Hindu Kush and Purple Afghani strains and is known for its impressive potency and delightful taste. The strain's stunning appearance and robust effects have earned it a place among the Top 10 Most Potent Strains in the World as named by High Times magazine.
Tuna Kush

Tuna Kush is a famous and potent strain of BC Kush that is highly valued by cannabis enthusiasts. It is a heavily indica-dominant hybrid with an average potency level of 27%, making it one of the strongest strains available. Although the lineage of this strain is unclear, some suggest it may be a backcross or phenotype of Hindu Kush, which explains its strong effects and distinct aroma.
Why Buy Bulk?
When it comes to purchasing cannabis, buying in bulk has numerous benefits that are too good to ignore. Buying cannabis in bulk is a great way to save money. As a customer, you'll have the opportunity to purchase large quantities of your favorite strains at discounted prices. This means that you'll be able to get more cannabis for your money, allowing you to stretch your budget even further.
In addition to cost savings, buying cannabis in bulk also ensures that you always have a steady supply of your favorite strains on hand. Whether you're a regular consumer or a medical cannabis patient, having a reliable source of cannabis can make all the difference in ensuring that you get the most out of your cannabis experience. By purchasing in bulk, you can avoid the frustration of running out of your favorite strains and being forced to make an additional order.
Overall, buying cannabis in bulk is a smart investment that can help you save money, ensure a steady supply of your favorite strains, and make your cannabis experience more enjoyable.