Buying Weed Online in Ontario, Canada

Toronto, Ontario
Although it is only the fourth largest province of Canada, Ontario remains the most populated, accounting for 38% of the nation's total population. Originally inhabited by the aboriginal Algonquin in the north/west, and the Iroquois and Huron in the south/east, the areas of Hudson Bay was explored by Henry Hudson in 1611, claiming it for England, and French settlements were established along the Great Lakes in 1615 after the arrival of Samuel de Champlain. Since its inception, then, the land of Ontario has been one of mixed cultures and identities, contributing and evolving a province now rich with diverse Canadian history and culture, ever developing and changing due its constant flux of newcomers. Undeniably the most lively of the Canadian provinces, Ontario is a must visit for its bustling city downtown cores, fantastic wines, and beautifully scenic landscapes and wildlife.
Cannabis Culture in Ontario
The country of Canada itself has long maintained a relaxed attitude towards marijuana, and is now set to become the world's first major industrialized nation to fully legalize recreational marijuana. Whether you want to
drink cannabis teas, eat gummies or chocolates
,
vape
, or
simply smoke
the product, you will be free to do so. At the moment, however, cannabis dispensaries are on lockdown by the Ontario provincial government as they seek to federalize and oversee the sales and distribution of cannabis products through the Liquor Board of Ontario.
Why Buy Weed Online in Ontario?
Because of Ontario's relatively strict restrictions towards marijuana distribution with legalization due for fall (2018), it has been much easier for Ontario consumers to purchase and obtain their marijuana online via mail order dispensaries. The process of ordering mail order marijuana is so easy, secure, private and convenient–with odourless and discreet packaging–that first-timers really have nothing to fear when ordering from places like
Green Society
, one of the most reputable Canadian online dispensaries for its service and high-grade products. With locally sourced goods from British Columbia where exceptional quality cannabis is grown, when ordering online at
Green Society
, you can expect to get the weed you want to be delivered directly to you quickly and safely with satisfaction guaranteed.
Exploring Ontario After Getting Your Weed
Ontario is famous for a few things, perhaps most notably Drake, The Weeknd and Justin Bieber, though your chances of catching them if you're stopping by are slim. No worries, the province is known for a multitude of things that are worth seeing and doing!
The Falls of Niagara

From left to right: America, Bridal Veil and Horsheshoe Falls
One of Ontario's most notable and internationally recognized natural features is Niagara Falls, a collective of three waterfalls which includes Horseshoe Falls, the largest of the three and most powerful waterfall in North America, American Falls and Bridal Veil Falls, the latter two falls lying on the American side of the border. All three waterfalls can be viewed 775 meters above from the Skylon Tower, which, in addition to a rotating 360 degree observatory, has a revolving dining room, arcade and 4d theatre. From here, you can also see the city skylines of New York, Buffalo and Toronto. To get a closer look, visitors can do Journey Behind the Falls, where they descend 150 feet in an elevator and travel through tunnels of bedrock to the Cataract Portal and Great Falls Portal, openings to view the thundering sheets of water, and eventually to the bottom of the Falls. An iconic and breathtaking experience whether stoned or not, the Falls are a majestic beauty to see!
The East Coast Metropolitan and the Canadian Capital: Toronto and Ottawa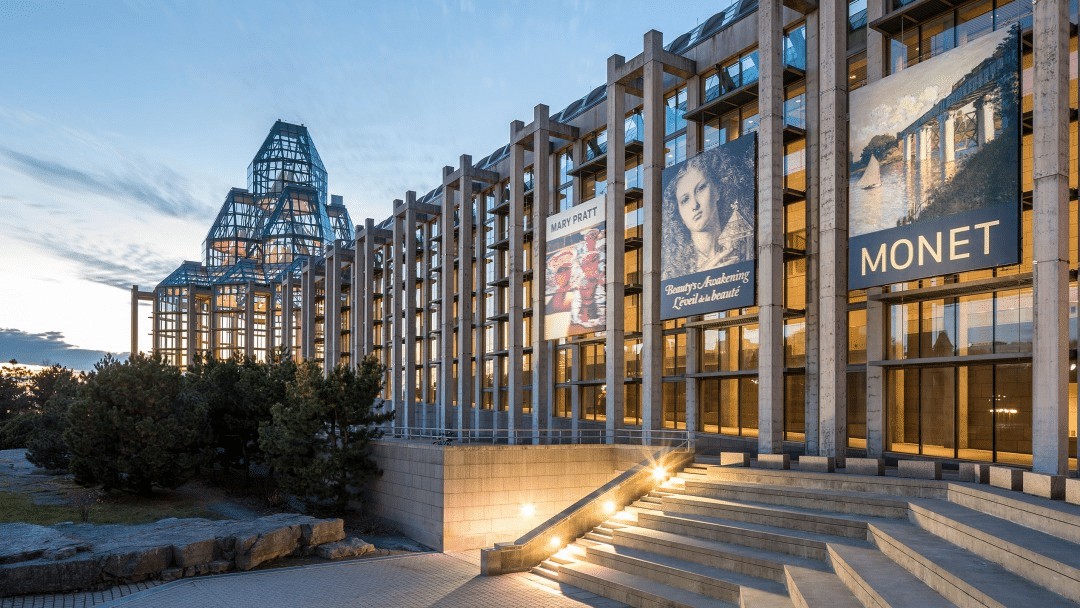 The National Gallery of
Canada
The National Gallery in Ottawa contains the world's most comprehensive collection of Canadian art, and is the best place
where you can see the works of the famed Group of Seven. It also boasts of exhibitions and works on loan from the likes of some of art history's most reputable, like Klee, Monet, and Vittoria. Art lovers will not be disappointed. And it's an art gallery; why not get high and take your time strolling as you view some of the world's finest art works?
Distillery District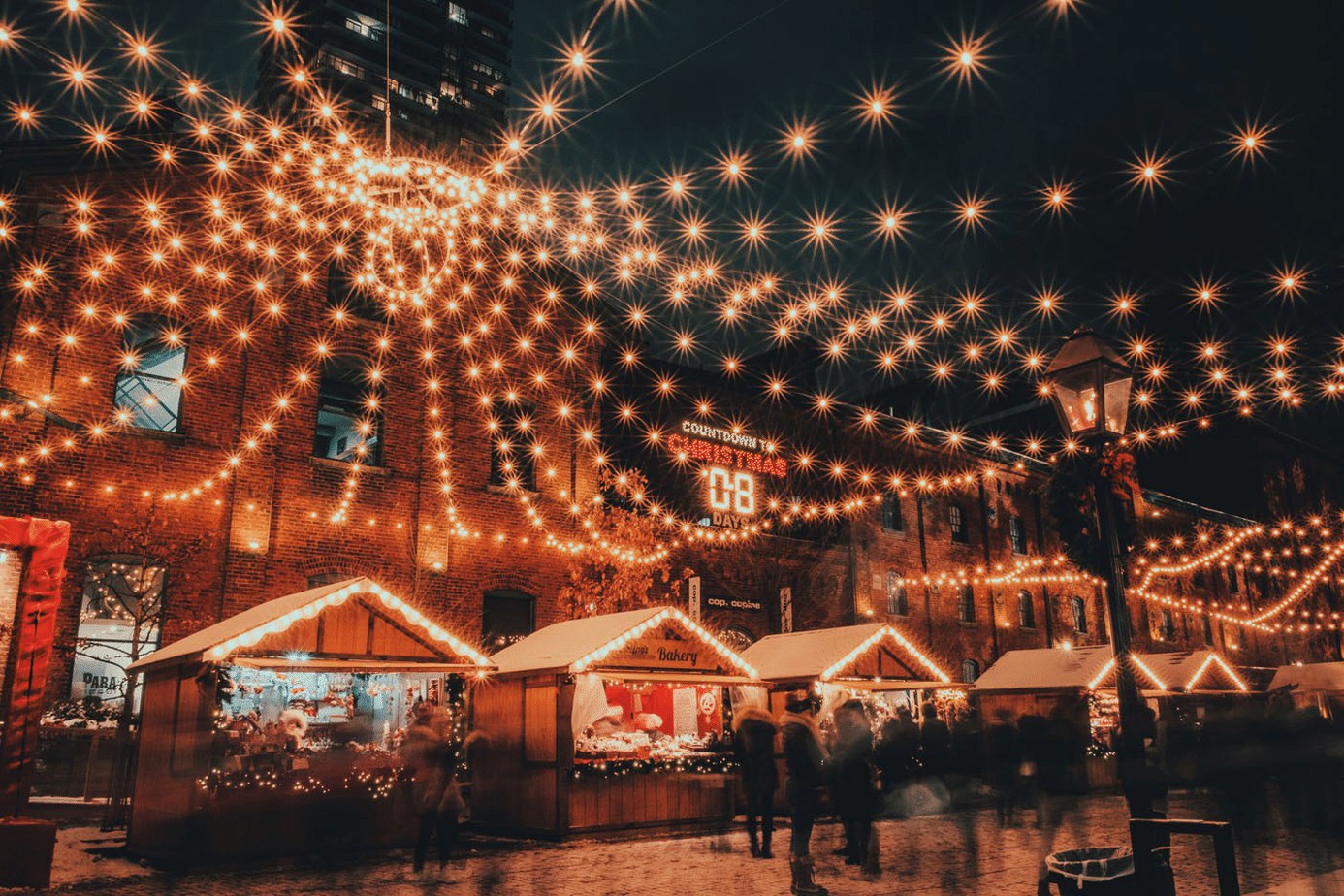 Christmas Market in Distillery District
In Toronto's Distillery District, where the streets are cobblestone and the buildings are remnants of the 19th century, you can find a goldmine of indie bars, restaurants, shops and galleries. Treat yourself to elevated Mexican small plates and tequila at El Catrin or some classic French fare favourites at Cluny Bistro & Boulangerie. A pedestrian-only area, this district that lies east of Toronto's downtown core is a local favourite hangout spot. A designated National Historic Site of Canada, it contains the largest collection of Victorian-era industrial architecture in North America. You'll definitely want to visit the Distillery District's Christmas Market if you're around in the winter!
Parliament Hill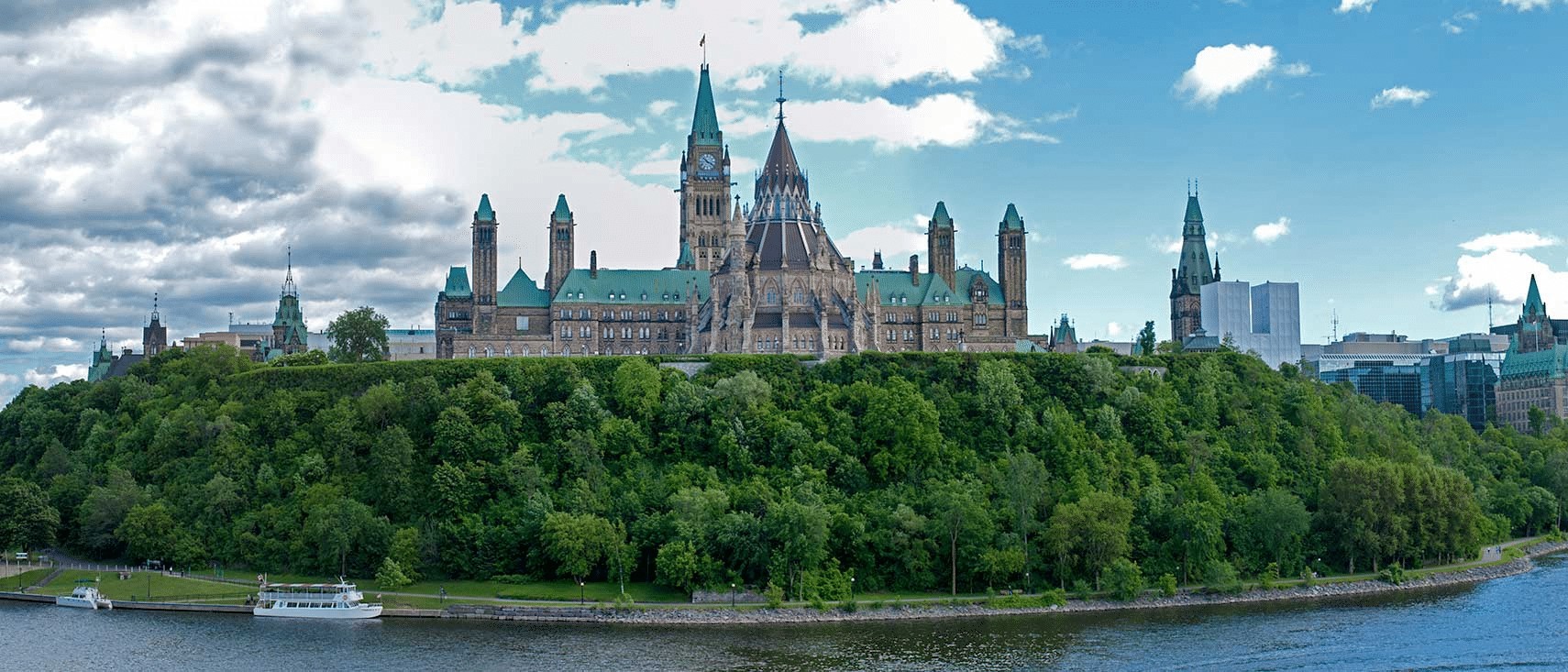 Parliament Hill, Ottawa
The home of Canada's legislature, the Neo-Gothic style architecture of Parliament Hill is worth a visit on its own. With free guided tours daily, you can come and discover the history, functions and art of the Canadian government. The Centre Block building houses the Senate, House of Commons and Library of Parliament, and there are also restored heritage rooms, allowing you a glimpse into life of early Canadian government in the 19th century, in the East Block. Also happening daily at Parliament Hill is the Ceremonial Changing of the Guard every morning at 10:00am, a colourful and stirring Canadian tradition. Parliament Hill also hosts special events throughout the year, such as Peace Tower Carillon Concerts and Northern Lights shows, allowing for enchanting relaxation the perfect atmosphere after blazing and after a long morning of touring!
No matter where you decide to explore when you're in Ontario, whether it be the crystal clear blue waters of Southern Ontario's famous Grotto or munching out–and binge drinking–at Toronto's Distillery District, Ontario is one hell of a time for any stoner as there are endless things to do and see. Need some indica for your peaceful walks through Bruce Park? Or some sativa for your late night out in the town? Just head on over to
Green Society
and make your online marijuana order when you're ready to explore Ontario. We'll have you covered.