Buy Weed Online British Columbia
Buying Weed Online in British Columbia, Canada

Vancouver, British Columbia
Wedged between the Rocky Mountains and the Pacific Ocean, the westernmost Canadian province of British Columbia is recognized worldwide for the diversity of its natural landscapes as well as of its people. Its scenic beauties along with its diverse cultures offers endless activities, attractions and experiences at all times of the year, making it a popular destination for tourists and students as well as an optimal place to call home. In fact, its urban center, Vancouver, is a city that is often featured on lists of top liveable cities in the world, consistently maintaining high rankings in The Economist, CNN and Business Insider among others.
Cannabis Culture in British Columbia
In the green world of cannabis, British Columbia is internationally recognized for its relaxed attitude towards marijuana usage, and even more famous for its quality of bud, making the Canadian province a popular destination for stoners from all over. British Columbia does indeed have a cannabis culture, and its marijuana industry is only growing bigger with dispensaries opening up throughout the province. Many online dispensaries like Green Society are actually based in Vancouver since BC climates and environments are ideal for growing top-quality cannabis plants.
Why Buy Weed Online in British Columbia?
It still stands that throughout the country, however, recreational marijuana is not yet fully legalized, and there remains communities that do not tolerate it, so obtaining marijuana can sometimes be difficult. Medical marijuana dispensaries also require ID or doctor's prescriptions in order to purchase any marijuana all. The best way for British Columbians or any visitors to the beautiful province can obtain their marijuana is to simply purchase their weed online. While one could visit a traditional dispensary or cannabis clinic in person, online dispensaries are quickly becoming the ideal cannabis frontier: it's quick, easy, convenient and discreet. For locals and tourists alike, shopping online offers you benefits such as greater product variety (this includes more weed strains!), fresher flowers, no line-ups, delivery to your door and privacy of your purchases. Oh, and there's often deals with online memberships with mail order dispensaries like Green Society.
Exploring British Columbia After Getting Your Weed
Not sure of what to do or where to visit in British Columbia after you receive your weed? Here are a few of many places to visit and activities to do when in BC:
Getting High in the Vancouver Lower Mainland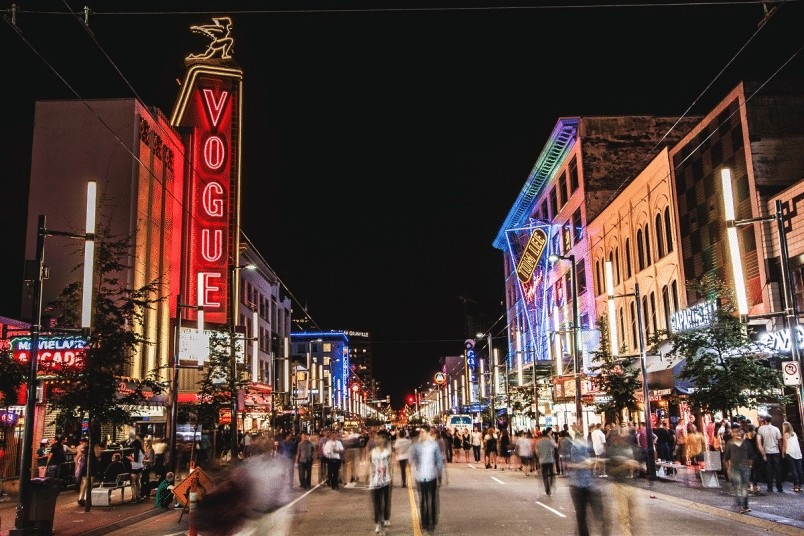 Granville Street, Vancouver. Photo courtesy Downtown Vancouver BIA.
A popular destination in BC is, of course, Vancouver itself. There are always arts and cultural events going on, and you can bet that 4/20 is an annual event for the whole city. Chill at Robson Square, a popular spot to blaze for locals and tourists. Or walk along the Granville strip, Yaletown or historic Gastown for some drinks and to grab a bite. With the rich cultural and ethnic diversity in the lower mainland, there are grub options that range from Chinese, Mexican, Italian, Indian, Japanese and more when you're feeling hungry and getting the munchies after a blunt or two. And trust me, you won't be the only one having munchies. Some local favourites and recommendations to relieve your post-blazing hunger would be Tacofino at their Gastown location for the best tacos in town, or head to Phnom Penh in historic Chinatown for the most delicious chicken wings you'll ever eat. Just be prepared for long lineups–in which case, you'll have time for another smoking session!
Of course, if you're a stoner, a place in Vancouver that you should have on your check list is New Amsterdam Cafe. While it is not a weed dispensary, it is a hotspot for local stoners, and is a premiere cannabis friendly cafe offering great coffee and a vapour lounge to chill with your friends. Just remember to bring your own weed!

Historic and Peaceful Victoria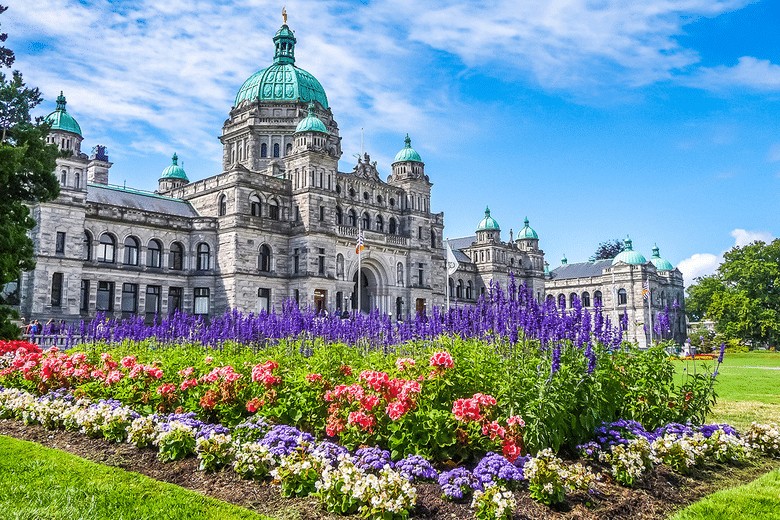 Victoria, British Columbia
If you're more of a chill stoner looking to get away from the Lower Mainland for just a day or two at a slower-paced city, Victoria, the capital of British Columbia, is on Vancouver Island and only a few hours away by ferry. Not only do you get to experience and enjoy the beautiful view of the Pacific Ocean and mountains when crossing the Georgia Straight to get to the capital, but there's neat activities that you can't do elsewhere, like whale watching wild orcas, visiting Canada's oldest Chinatown, or seeing the "must-see oasis", the Butchart Gardens, which is a National Historic Site that's perfect for a nice, relaxing stroll while high. The city is reminiscent of its hundreds of years old colonial past through its Victorian architecture at places like the Craigdarroch Castle, which is not a common view in the Lower Mainland!
Wine Tasting in the Okanagan Valley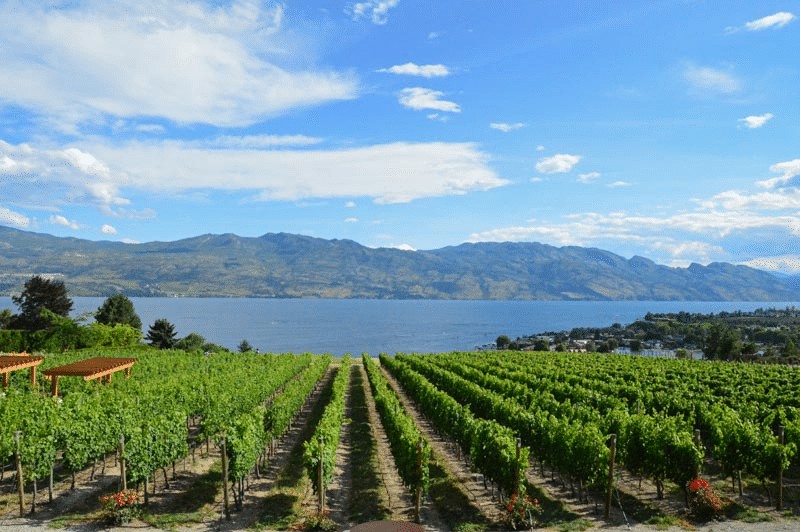 Go Sip on Some Wine in the Okanagan
If you're a wine lover as much as you are a stoner, you should definitely go to Kelowna in the Okanagan as it's regarded as the birthplace of wine-making in British Columbia. Weed and wine make a rather nice pairing, and there are over 40 wineries to visit all within 20 minutes of each other, though there are five unique wine trails you could choose to tour from: Kelowna's Fab Five, Lake Country's Scenic Sip, Westside Wine Trail, Lakeshore Wine Route and Downtown Grapes & Grains. Have your bold red wines with Girl Scout Cookies, some rosé with Bubba Kush, or even try having some edibles to munch on while swirling and sipping!
Adrenaline Pumping Activities in Squamish, Whistler
The Chief, Squamish
A great way to chill and relax for everyone when getting high is to go outdoors and experience the British Columbian wild. Getting high the Squamish mountains while hiking or camping is a popular retreat for those wanting to get away from the hustle and bustle of the city. Whistler is also a highly regarded spot, a perfect getaway for any season of the year. In the winter, as one of the largest ski resorts in North America, you could go snowboarding or skiing in the same mountains that hosted the Winter 2010 Olympics. In the summer, adrenaline junkies can go bungee jumping or white water rafting. Ease off all the adrenaline afterwards by getting high and taking a nice walk through Whistler village, which is always bustling with people from all over the world.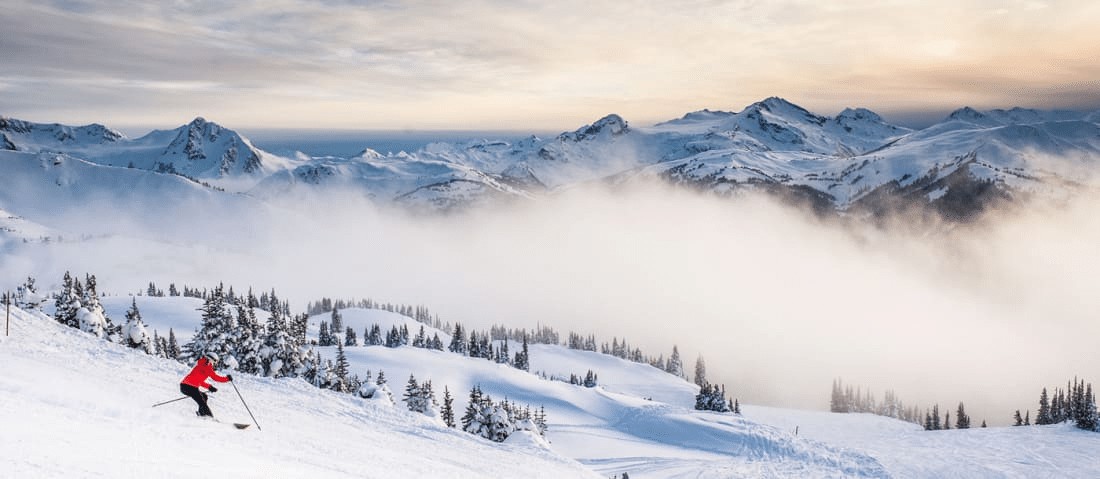 Whistler, British Columbia
All in all, British Columbia is one of the places in the world that everyone should visit at least once, perhaps more so if you're a stoner. While you're there, why not take advantage of its cannabis culture, and order your marijuana from a place like Green Society which sources its products locally, where it's recognized for top-notch quality?