Gas Mask
POPULAR in The Green Room
Gas Mask is a notoriously funky strain created by the talented team from Pacific NW Roots. This backcross of Cherry Pie and Alien Kush F2 reeks of an gas fumes, heavy fuel and a surprisingly bright, citrus-like undertone.
| | |
| --- | --- |
| Bud Size | Large |
| Grade | AAAA+ |
| Lineage | Alien Kush F2 x Cherry Pie |
| Effects | Relaxed, Uplifted, Happy, Giggly & Hungry |
| Classification | Indica |
| Terpene Profile | Gas, Diesel, Pine & Citrus |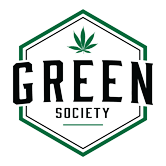 Gas Mask
You can bet that you won't be discreet with this pungent strain! Named for its strong odours, Gas Mask is a funky and dank indica hybrid that was originally created by Pacific NW Roots based in Washington. This phenotype however is bred by Exotic Genetix! Created by crossing Cherry Pie and Alien Kush F2, this strain is a heavy hitting powerhouse. Its THC levels have been measured to reach as high as 27% potency and will leave you feeling pretty sedated after just a few tokes. Because of its strength, it's pretty popular within the medical cannabis community. 
Effects
Whether you're a novice or experienced cannabis user, you'll want to be careful with how much you're consuming with Gas Mask. Just a couple tokes can go a long way, and it's pretty long lasting. Users might first notice a tingling sensation that first starts off at the temples, and a more trippy psychedelic, cerebral state may settle in eventually thereafter that can alter your sense of time. You will feel spacey, but calm and uplifted, and a relaxing sensation will wash over you, lulling you to a dreamlike, sluggish state. The feeling of heaviness will progress, so for the next little while, you'll more than likely be couch locked and transition towards sedation. Because of this, the strain is recommended for evening use at home. Its uplifting and calming effects make it particularly useful for relieving symptoms of stress, depression, anxiety and PTSD, while its sedative nature can also help manage or alleviate physical pains whether mild or chronic, including headaches, migraines and inflammation. It is also a great treatment for insomnia.
THC Content
Gas Mask is an indica dominant hybrid with 70% indica to 30% sativa. On average, it's THC levels measure between 20% up to 27% and 1% CBD. It is a cross of the popular Cherry Pie and Alien Kush F2, though some crosses specifically use Fire Alien Kush F2. Some phenotypes are a four way cross of these two parent strains: Cherry Pie, Fire Alien Kush F2, and again with Cherry Pie and Fire Alien Kush F2. Its Cherry Pie parent is also an indica dominant hybrid with a ratio of 80% indica to 20% sativa, 16% to 24% THC and 1% CBD levels. Alien Kush is a balanced hybrid with THC levels averaging at 14% potency, though Fire Alien Kush F2 is a bit more potent at 19% to 20% potency, and is a sativa leaning hybrid.
Appearance & Aroma
Even its appearance is intimidating. Gas Mask nugs are rather large and its flowers are tightly packed, though some of its oversized leaves curl outwards to give it an acorn-like appearance. It is a minty olive green with large patches of deep, dark blue and purple hues that are almost black, with small brownish orange pistils throughout. Additionally, it is coated with a frosty layer of trichomes. Named for its harsh aromas, the strain is strongly pungent with gasoline and skunky overtones, though there are also notes of earthiness. When smoked, however, it surprisingly also has brighter notes of fruits, particularly cherries and berries and a hint of herbs to complement the strong mixture of diesel and skunk. Some users even note undertones of cocoa nuttiness. These lighter and sweet flavours shouldn't fool you though–the pungent, fuel-like sourness of the smoke will surely make your eyes water, making you wish you had an actual gas mask!
Only logged in customers who have purchased this product may leave a review.
Enter your email address in the box below to get your referral link.
Referral Program
Give $30, Get $30 we will send you a coupon code worth $30off from your purchase. Get started now, by sharing your referral link with your friends.
Your Referral URL:
https://greensociety.cc/product/gas-mask/
Click to copy
Customers also viewed