New marijuana laws in Canada went into effect on October 17th, 2018. The new cannabis laws make buying Canadian weed easy for both recreational and medical needs. You don't need a medical card or a prescription, all you need is proof of age and you can buy from any local marijuana store or online.
It's great news for Canadians and many new people will be introduced to the benefits of marijuana. But although the new laws make it easier than ever to get weed, there are still some strict regulations you need to know. Most importantly, you need to be aged 19 or above- unless you live in Alberta or Quebec, where the legal purchase age is 18.
You'll also need to know the limits on how much you can legally possess and where you can smoke it. Growing is also legal now in many provinces and territories, which also comes with its own restrictions. Here's everything you need to know about buying Canadian weed in accordance with the new cannabis laws.
How old do I need to be to buy Canadian weed?
Providing you're 19 or older, you'll have no problem getting your hands on weed in Canada. New federal laws state that adults 18 years of age or above can legally purchase and use marijuana. However, every province and territory with the exception of two have set the age limit to 19. In Alberta and Quebec, you can buy weed from 18.
The age limit applies to purchases, using and growing. Many marijuana retailers won't allow those under 18 or 19 into the store. Being caught using weed as a minor can also result in problems with the law. Supplying weed to minors is also illegal and can lead to fines and jail time.
You don't need any new documents or cards or buy marijuana in Canada. An official form of identification such as a Driver's License or passport which proves your age is enough. You'll be asked for this when buying in a recreational dispensary. If you order weed online, you may be required to show your ID upon delivery.
How much weed can I legally possess in Canada?
With the new laws in effect, you'll be able to purchase a whole lot of weed in Canada. However, as far as public possession goes, there are still some strict limits. The possession limits are the same for all provinces and territories. You can have up to 30 grams of dried cannabis on your person in public.
Of course, flower cannabis isn't the only kind of marijuana product. Different possession limits apply to different kinds of cannabis products. These also apply to all provinces and territories. Here are the official limits as set by the Cannabis Act:
Dried cannabis:

30 grams

Fresh cannabis:

150 grams

Cannabis edibles:

450 grams

Liquid products (e.g. tinctures/oils):

2100 grams (4.62 pounds)

Cannabis concentrates (solid or liquid):

7.5 grams

Cannabis plant seeds:

30 seeds
The law allows a lot of leeway in regards to possession. It's also important to keep containers or packages closed until you get home. Many provinces also require you to keep cannabis out of reach while driving, such as in your glovebox.
So what if you need to stock up on more marijuana? While there are public possession limits, you can keep as much weed as you want at home according to the Government of Canada website. Medical users also have higher possession limits- 150 grams of dried cannabis or up to a month's supply.
Where can I buy Canadian weed?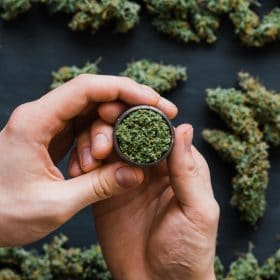 Buying Canadian weed will be no problem, no matter where you're from. Most provinces and territories are currently setting up government retail operations for recreational marijuana. Many are also allowing private retailers to obtain licenses to sell marijuana. Where you can buy locally depends on where you're from- it may be a government site, a liquor store, or a marijuana dispensary.
Many people will find themselves without anywhere to buy weed locally. However, this won't be a problem. You will also be able to buy weed online in Canada. Marijuana delivery is available everywhere in Canada. Weed shipping also follows strict packaging laws, so everything is sent privately and discreetly. This means you'll get your products without any hassle and no one will know what you're having delivered.
In addition to widespread availability and delivery, there are many benefits of buying your weed online. Those who live in provinces where the price of weed is high will often find it cheaper to buy from the web. Buying online can often result in higher per-gram savings, better deals, and even customer loyalty points in some cases. This makes it a great option for those who find buying weed locally too expensive or inconvenient.
Where can I smoke weed in Canada?
Different provinces and territories have different rules on where you can smoke. For the most part, you're limited to private places. This means you'll be able to smoke in your home or at a friend's house. However, landlords can restrict smoking on their properties. Some places are a little more relaxed and allow you to smoke where tobacco is allowed.
Some provinces, such as Nunavut, plan to open cannabis lounges in the future. Prince Edward Island will also allow licenses for public smoking in certain places. Some other provinces and territories will likely follow suit. In the Northwest Territories, you can smoke on secluded roads, trails, and parks, provided there are no events and no children present.
Make sure you avoid smoking in your car or smoking in places where tobacco is prohibited. Having an open package of weed in your car is illegal in some places. To check up on the laws of your province, you can look at the Government of Canada website.
Weed growing laws in Canada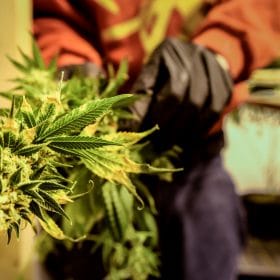 The cannabis laws of Canada also allow you to grow your own plants. If you're of legal age to purchase marijuana in your province, you can also grow up to four plants. You can grow indoors or outdoors, although there are some restrictions.
There are still a few parts of Canada where growing is illegal. You must not grow your own weed in Quebec or Manitoba. Nunavut lifted their ban on growing but it can be restricted by the territorial government.
Landlords are also able to prohibit growing on their property. It's important you respect these restrictions and don't grow unless you're legally able. In your own home, you should have no problem growing.
If you're growing outdoors, you will need to keep plants out of public view. You must also make sure children can't access your marijuana plants either indoors or outdoors. Keeping your grow operation in a locked room, space or outdoor enclosure is the best method. New Brunswick requires outdoor marijuana plants to be kept in a locked enclosure at least 1.52 meters high.
Providing you keep in line with local laws and restrictions, you'll have no problem growing your own weed. You can grow up to four plants at a time and keep all of the produce you cultivate at home. Growing can take around 3-6 months but can result in huge yields of marijuana.
Can I legally sell or distribute weed in Canada?
Now that buying and growing weed is legal, many citizens wonder what exactly they're able to do with their weed. But while you can keep mass quantities of marijuana, it is still highly illegal to sell it.
Only licensed retailers are legally allowed to sell weed. Only a few provinces are open to licensing new businesses right now. Selling to your friends or locals can result in serious criminal punishment, including up to 14 years in jail.
However, giving weed away as a gift in Canada is legal. There are a couple of conditions to keep in mind, though. You can only give away as much as the legal possession limits allow, so 30 grams of dried cannabis or the equivalent for other products. You must also not give cannabis to anyone under the legal possession age. This is also a serious crime that can result in jail time.
What are the best strains to buy in Canada?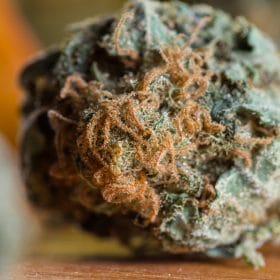 All kinds of strains are available when buying weed in Canada. Some stores may have limited options, but you'll find a huge variety of indica, sativa, and hybrid strains online. Each strain has its own effects, taste, and other properties. Here are some of the best strains to consider.
Gorilla Glue #4

, also known as Original Glue, is a multiple award-winning strain that's notorious for its potent body high. If you're looking for a powerful sativa-dominant hybrid to help you relax, this is perfect. Ideal for nighttime use, GG4 will give you intense relaxation, making it good for medical users looking to treat pain, stress, and insomnia.

Blue Dream

is an uplifting strain with a nice mix of both indica and sativa qualities. While it'll still help you relax, it'll also give you a nice physical and mental boost. This makes it a solid choice of daytime strain. With THC levels of 17-24%, this is another potent strain that'll give you strong effects.

CBD René

is one of the best strains for medical use. It often comes with equal levels of THC and CBD, meaning you'll get a nice high with a wide range of medical benefits. Sunkiss CBD is perfect for dealing with all kinds of symptoms, including chronic pain, anxiety, depression, nausea, and insomnia.

Pineapple Express is a balanced-hybrid with a great taste. It'll give you nice, soothing physical effects along with a sharp mental high. It'll melt your stress away while giving you a nice boost to your mood.
There are plenty of other options available to choose from. If you're having a hard time choosing, you may even want to buy cannabis variety packs. This way, you can try a range of strains and determine which is your favorite.
What other cannabis products can I buy in Canada?
There are plenty of other options in addition to herbal cannabis. Some users may prefer other methods of using cannabis. Some of these offer more convenience while some simply offer a way to use cannabis without harming your lungs.
Cannabis concentrates make a good alternative to herbal cannabis. These come in various forms, such as hash, shatter, and wax. You can break these up and use them for smoking, vaping or even dabbing. Concentrates offer a more potent high than flower, and only a small amount is needed to get you really high.
Tinctures are another useful alternative. Many medical users enjoy these for their ease of use and convenience. All you need to do is put a small amount under your tongue for 30 seconds to get the effects. Tinctures often come in pure CBD form, allowing users to get the medical effects of weed without getting high.
Other CBD products are also available, such as CBD extracts. This offers more ways to use CBD and get its potent medical benefits. CBD is a non-intoxicating cannabinoid which gives you pain relief, reduces anxiety and nausea, and improves your health all around.
Some users may also want to buy a vaporizer. These allow you to heat up flower cannabis and cannabis concentrates to inhale without smoking. This gives you all of the effects without any damage to your respiratory system. Vaping also gives you more of the flavor of cannabis, making it highly enjoyable.
Conclusion
Buying Canadian weed is now simpler than ever thanks to the new cannabis laws of Canada. While many local stores will be available, buying Canadian weed online is also safe and easy for anyone who needs it.
As far as laws go, there are only a few things to remember. You must be 19 years or older in most provinces and territories. In Quebec and Alberta, you can buy and smoke weed from 18. It's best to keep your marijuana use at home, although some public places will allow smoking. Growing up to four plants is also legal unless you're in Quebec or Manitoba.
Keep your weed safely stashed away at home and never drive while intoxicated or give minors access to weed. As long as you keep in line with provincial laws, you'll have no problem enjoying cannabis.